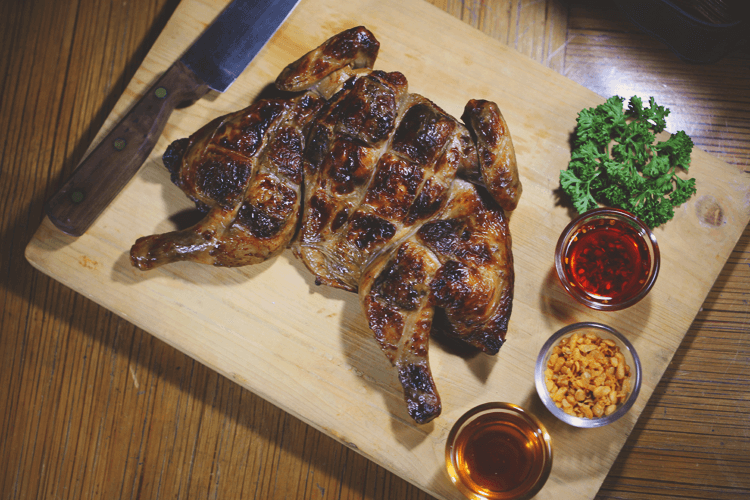 Mahilig talaga ako sa pagkain na ma-sarsa, may sauce, o may sawsawan. And anything garlicky. So the first time I tried Reyal Chicken I fell in-love!
It may look like a regular litson manok to you but believe me when I say that Reyal Chicken is different.
Kaya naman, aside from my heart (and tastebuds) in two years' time, it successfully captured the market's appetite for roasted chicken that comes with a unique sauce.
In time for its second anniversary, Reyal is unveiling a new look for its brand, switching its bright yellow colors to a warm orange and changing its text logo to a much more striking cursive. The rebranding is definitely much saucy-er than ever, drawing attention to what they're really known for — their signature litson manok sauce.
There's no question how their sauce is well-loved by customers seeking affordable yet flavorful ulam for the family. It's different from what Filipinos are used to when it comes to barbecued chicken. Instead of getting lechon sauce or toyomansi, customers get a sweet and spicy sauce that's made with honey, chili oil and toasted garlic bits — ingredients that appeal to the Pinoy taste.
Despite this major re-branding, however, Reyal continues to guarantee its patrons that it doesn't change anything with regard to its sauce-sarap taste. They will still be met with the same butterfly-cut chicken and sweet and spicy flavors that they can bring home for everyone to enjoy.
Reyal continues to be a well-loved litson manok brand by Filipino families. And even though it looks much different now than before, one thing that stays constant is its Reyal Litson Manok that definitely is "mas masarap 'pag may sauce."
Find a Reyal Chicken branch near you and try it.
To know more, drop by the Reyal Chicken Facebook Page.