Food parks have been sprouting around the metro left and right last year. But I've been avoiding them like the plague ever since the second quarter of 2017. I know most of what they serve are meat dishes, sweets, and mostly fried food. It's not gonna do my cholesterol level any good. So while I adore the themes and how sinfully good the food are, I just try to keep distance so as not to be tempted.
But the holidays and the family reunion got me late last month. Had dinner at Food Garage in Novaliches with the ILs one chilly holiday night.
Food Garage is a car garage themed food park. Tables are made with car hoods which I think is really cute but can be a disadvantage because it's slippery.
There are lots of food stalls available which includes Gallette Gallette,Lola Ote, Chickot, Sausage Party, Tacojuana, Full Tank, and Salt.
We had the Sexywarma — a shawarma salad that's quite expensive for it's serving. I mean, it was really good but a small serving costs ₱170. Ykaie had the T-Bone Steak from Salt.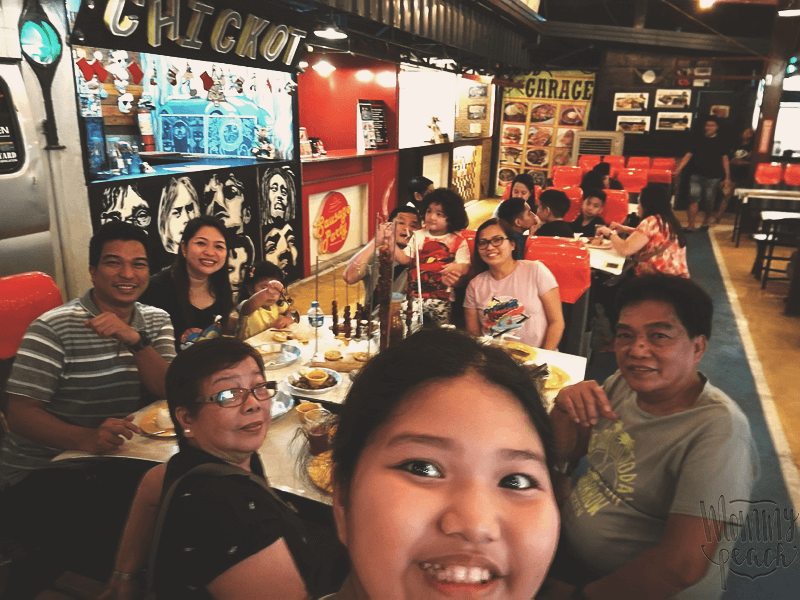 And since Ate Arlene and Kuya Jojo are craving pork, we had Chicharong Bulaklak, Grilled Isaw, and Pork barbecue from Lola Ote.
It was quite an enjoyable experience — oh, and they had videoke rooms which can fit up to 20 people.
Food Garage is located across Sr Pedro Dine In Fairview, Quezon City.