Manulife Gradmaker Launch is hosted by 

the newest brand ambassadors of Manulife Philippines
Growing up, I always hear my parents tell me to study hard and finish school because education is the only legacy that they can leave me. It is also the only belonging that couldn't be taken away. Now that I am a parent, I fully understood what they meant. That is why peanutbutter♥ and I work so hard to make sure that we could send Purple and Twinkle to school. You know how expensive it could be to send one child to school. Twinkle will start school next year and we realized that education expenses would double. How much more expensive could it be when both kids go to college? Could we still afford it?
Good thing I was able to attend the launch of Manulife Gradmaker and found out that there is an EASY way that we can save for our children's education.
What is Gradmaker?
Gradmaker is a LIFE INSURANCE PRODUCT that comes with an INVESTMENT .
Your money will be invested in Peso Dynamic Allocation Fund which is a combination of stocks and bonds suited for those who have medium risk appetite. You will be insured for 125% of the amount you invested. Your beneficiary will receive 125% of your single premium or the account value, whichever is higher.
There's a tuition fee calculator that projects the tuition fee of your children for their desired university in the future. This can help you visualize and prepare on how much you should be saving for their future.
What Do I Love About GradMaker?.
Investing is Easy– You don't have to meet with investment counselors or financial advisors. No appointments. No pens and papers. All you need is your mobile phone. Just download it through the Apple App Store or Google Play and you're ready to start.
It is a Mobile App– Investing is convenient and flexible…and it's just a few clicks away.
There's no monthly amortization– You can invest for as low as ₱10,000, P20,000, P30,000 and as much as P120,000 for a single policy. This is a one-time payment. If you want to invest more, then you can purchase another policy. You can invest at your own pace and at your own time. Or you can invest if you have extra money.
You can monitor your investment anytime– Since it's a mobile app, you can check how much you gained or lost, real time. You simply have to log in to your GradMaker App to do so.
Earn Rewards– For every policy that remains active for at least 1 year, Manulife rewards you with additional units worth 1% of your premium.
You can Withdraw Your Investment Anytime– You can withdraw your investment anytime you want and it will be credited to your bank account. However, you will incur minimal fees if you will withdraw your investment in less than 5 years.
You get to GIVE BACK when you Invest through Gradmaker– GradMaker's vision is to create a world where all children get access to education. So for every GradMaker investment you make, 1% is matched by Manulife to be donated to Cartwheel Foundation. This is not taken out of your investment, but paid for by Manulife.
Here's a Peek Through The App
To get started, you must be
between 18-50 years old
A Filipino citizen residing in the Philippines
have a Philippine work or business address
You have to input your child's name and her month and year of birth plus the school you want her to take college. In my case, that's Purple and I put UST as her university of choice. The projected 4-year tuition fee for UST for batch 2026-2029 is ₱857,436. That means that's how much I need to make, to make sure she graduates.
If I invest at least ₱10,000 for 4 years, I would cover around 7% of the 4-year tuition fee needed for Purple. But if I invest longer, I will have more time to grow my investment.
I'm really happy that Manulife launched GradMaker and I found out about it this early. That means my husband and I can start planning for Purple and Twinkle's future while we still can.
It also means that it doesn't have to take as much of our time to invest because we can do it conveniently and anywhere — even in the comforts of our home. The rest of our time we can spend with our kids.
Let's make our children's dream come true and start investing for their future as early as we can.
Let's become a GradMaker.
Manulife executives with Bianca Gonzalez-Intal w/ daughter Lucia – 

BE A GRADMAKER! 

Ryan Charland, President & CEO of Manulife Philippines, joins new brand ambassadors Bianca Gonzalez-Intal and daughter Lucia during the launch of mobile app GradMaker. They are joined by Melissa Henson (rightmost), SVP & Chief Marketing Officer, and Bim Gutierrez (leftmost), SAVP & Chief Innovations Officer.
"Investing for your child's college education does not need to be expensive or difficult," said Ryan Charland, President and CEO of Manulife Philippines. "With GradMaker, Manulife wants to help parents like Bianca as they make plans to send their children to the schools of their choice."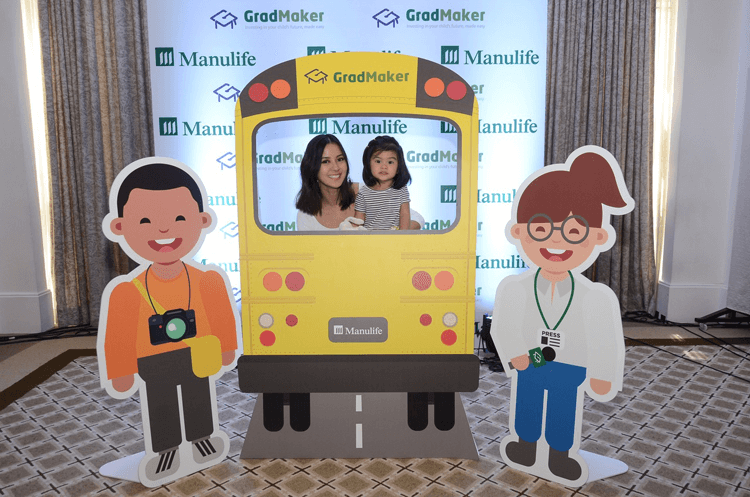 To know more information about GradMaker, visit www.manulife.com.ph/GradMaker