O diba parang ang bongga lang ni nanay? Ang daming birthday celebration!  nagpa-breakfast sa Pan De Amerikana, nagpa-lunch sa Rustic Mornings
and then the following week
, may lunch ulit.
This time lunch was at Chili's, SM The Block together with Tita Becky, Rome, Kuya Noel, Cyra, and Cyvrine….
I know nanay's birthday was last February and it's nearly the end of March. Sorry I've been busy this month — about a project I've been working, about Twinkle and Ykaie, about our house, — well, generally about life. (Will tell you more about it on my next post.) But here I am and hopefully I could blog more next month.
Anyway, this lunch treat is because Kuya,  Cyra, Cyvrine, Rome, and Tita Becky couldn't come with us at Rustic Mornings and Pan De Amerikana.
Selfie muna habang fresh pa… (Of course, I'm using my Oppo F5 Youth to get that natural and awesome selfie.)
It was my first time at Chili's too. I've been wanting to try Chili's for the longest time but we always end up eating someplace else. Finally,
natuloy din kami
…
Here's sharing with you what we had…
Because we had three kids who love chips, we ordered Bottomless Tostada Chips and Salsa (₱395), two plates of warm and crispy tostada chips were served with housemade salsa.(and they kept refilling the plates!) We ordered a cup of queso (₱180) to have a variety of dip. The kids ended up finishing the queso first…
Of course, the adults wanted to try their original Terlingua Chili Bowl (₱295) It wasn't too spicy and it was terrific with the chips.
Another thing we ordered is the Triple Dipper (₱560) where we got to chose three among their appetizers. We chose: Original Chicken Crisper, Soutwestern Egg Rolls, and Calamari.
The kids wanted this and I forgot what's it's called but it's along the lines of Bacon fries? or crispy pork belly?
I love the Grilled BBQ Chicken Salad (₱500) it's crisp romaine lettuce topped with grilled marinated chicken breast, crispy bacon, cheddar cheese, house-made pico de gallo, corn and black bean salsa, cilantro, and crispy tortilla strips.
Check out this Mix and Match Fajita: Grilled Steak and Grilled Chicken (₱675) We ordered half steak and half chicken which was served on a sizzling plate with sautéed bell peppers and onion, topped with chipotle garlic butter and chopped cilantro. It went with  a couple of warm tortillas, cheese blend, pickled onion, jalapeno, relish, cumin-lime sour cream, house made pico de gallo, and salsa.
Original Baby Back Ribs Full Rack (₱1,400) – tender, juicy, and flavorful! It was served with buttered corn on the side.
Alfredo Pasta topped with Grilled Chicken (₱460), penne pasta tossed in creamy alfredo sauce topped with grilled chicken, diced tomato, green onion, cajun spice, and parmesan cheese
See these satisfied faces? We were so full! Napadami yata yung orders namin.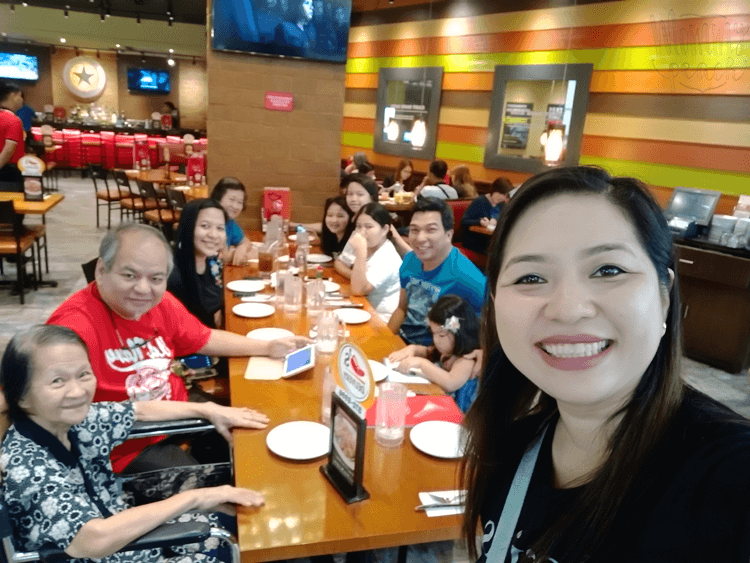 You know this is my Nanay's 78th birthday. I know I haven't told you as much but my nanay has Alzheimer's disease. She doesn't remember that she got married to my father and had three kids with him. She thinks my brother, my sister, and I are her siblings. She remembers my father as someone who was courting her but one that she doesn't like. Sometimes she remembers liking him but not being married to him. Minsan nga niloloko ko sya na aakyat ng ligaw si tatay… There are times when you can tell she's looking forward to it and there are times that she doesn't believe me. Minsan kinikilig din sya…
Happy Birthday Nanay!