15 days na lang Pasko na! Nakapag-shopping na ba kayo for you and your loved ones? If your answer is Yes, then well and good! I salute you for being so organized and well-prepared. If you're answer is No, well, apir tayo! I also haven't done my Christmas shopping. Life has been a lot busier lately and I haven't had time to go Christmas shopping. I'm planning to do my it this 12.12 because as we all know, many online shopping websites are planning to hold a sale on December 12. We can save money through discounts, we won't get stuck in traffic, at hindi pa tayo makikipag-siksikan sa ibang mga tao sa mall.
4 TIPS TO MAKE THE MOST OF YOUR CHRISTMAS SHOPPING
And because I know that you are also gearing up for your Christmas shopping. I will be sharing with you a few tips on how you an get the most of it.
Do a Little Pre-game shopping. Shop earlier. Like ngayon na! Put all your shopping wants in your cart. That way, you'll still have time to go through all your shopping items again. When it's 12.12, you just have to put the corresponding discount codes and check out.
Don't forget to subscribe to push notifications, or sign up for alerts. This way you'll never miss out on the latest deals and score them while they are on sale. Of course, remember to buy only the things that you need or you will use or you will give as gifts. If you buy something na itatambak mo lang at home, then you are not saving money at all diba?
Stop second-guessing sizes when buying clothes.  Always use the Size Recommendation tool, this way you avoid sending the item back and forth and avoid wasting time and effort.
Don't pay cash, use PayMaya! Yes, there's cash on delivery at nakasanayan mo na. But did you know that using PayMaya can give you almost 100% cashback. That means discounts on top of the 12.12 discount you're getting from the shopping. And it's the most convenient way to pay for your purchases online and offline!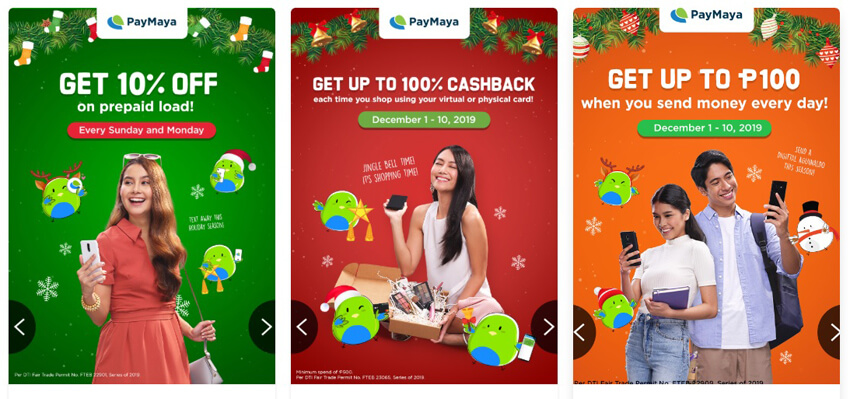 PAYMAYA PERKS WHEN YOU SHOP ONLINE
PayMaya has awesome perks when you shop online (and offline) using your virtual or physical card.
Get 1%, 10%, or 100% cashback when you purchase at least ₱500 worth of gifts online or in-stores using your PayMaya virtual or physical card.
Get a fixed, one-time cashback of ₱150 when you accumulate ₱5,000 worth of transactions with your PayMaya virtual or physical card
Get a 30% off, max ₱150, of your Lazada purchase when you redeem the collectible PayMaya voucher from the Lazada app. This is applicable for a min spend of ₱500.
PAYMAYA QR PROMOS
If you wanna shop in your favorite establishments, you can also enjoy awesome cashbacks from PayMaya. Just use PayMaya QR and pay within seconds! Apart from the convenience, this also offers amazing rewards!
Get 1%, 10%, or 100% cashback when you #ScanToPay via PayMaya QR with a min of ₱100 for you in-store purchases. Maximum amount for cashback per user is P500.
Get a fixed, one-time cashback of ₱150 when you accumulate ₱5,000 worth of transactions with your PayMaya QR.
Get two chances of enjoying up to 100% cashback when you #ScanToPay via PayMaya QR this weekend (Dec. 14-15). The min. purchase for this is ₱100 and the max cashback per user is ₱500.
Get a chance to win one of the 11 iPhone 11 units being given away at Robinsons Department store. All you have to do is #ScanToPay via PayMaya QR, and spend a min of P100 for one raffle entry.
See you get more when you shop using PayMaya, diba?
But you know what I discovered? You can also get a cashback when paying your bills and buying loads.(See Below)
Get a 25% cashback on your Meralco Bill
Get a P300 cashback when you pay 3 bills worth P1,000 each
Get a P500 cashback with Western Union
Get 10% off on prepaid loads
Get 15% off on GIGA offers 149 and up
Get 100% cashbacck when you buy HOOQ and Cignal plans
O diba? Excited na tuloy ako mag-shopping ngayong 12.12!!
Kaya naman for your 12.12 shopping, don't pay cash, PayMaya!
Get all these awesome perks by signing up to PayMaya. Don't forget to use my code:
PEACHYPAYMAYA

to instantly get a P50 reward!

Check out https://www.paymaya.com/deals for more updates on deals and discounts.