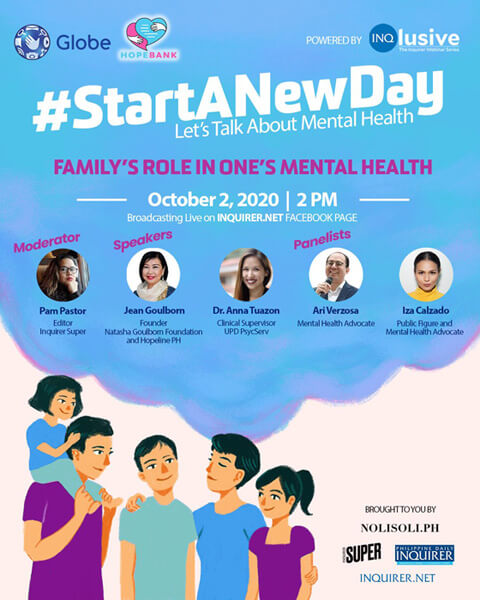 The past several months hadn't been easy for all of us.  I know some you have been struggling or has experienced a mental health issue in one way or another. I know because I did — I had anxiety attacks that kept me awake in the wee hours of the morning just because of my worries about this pandemic. There are times na inubo lang ako, napa-praning na ako. Even if it's not even a symptom of COVID. That's how affected I am.
That's why I was so glad that I was able to watch this webinar from Globe and Inquirer entitled #StartANewDay: Family's Role in One's Mental Health. It was hosted by Inquirer's Pam Pastor, with Jean Goulbourn, Dr. Anna Tuazon, Ari Verzosa, and Iza Calzado.
This webinar is not just about mental health issues brought about by the pandemic. It tackled mental health issues in general even way before this pandemic happened and how the family can build a support system for loved ones who experience mental health issues, as well as how and where to seek help.
WHAT I LEARNED FROM THIS WEBINAR
Factors Promoting Resilience In Our Kids
 A healthy relationship with parent or one supportive adult.
 Well developed social and problem solving skills
 Ability to act independently
Having a sense of purpose or future
At least one coping strategy
A sense of positive self esteem
Ability to focus attention
Special interests and hobbies
How To Spot Early Signs of Mental Health Concerns
hopelesness and helplesness
thoughts of death and dying
hallucinations
frequent crying
anger,irritability, grouchiness
headaches, irritability, stomachache
strong dependence on video games MAY be a sign
I also learned…
about the different ways on how you can help
Parenting Styles Matter – must be both firm and supportive of your kids
We must prioritize COMMUNICATION at home as a way to establish safety security and support
Trigger Management
How To Motivate in a Healthy Manner
These come in useful especially in this tough times. There were a lot more topics that were tackled in the webinar and it's better if you catch it first hand from the professional. It was shown last October 2,2020 but you can still watch the FB Live using this link:
https://www.facebook.com/142802334452/videos/386331899410429/