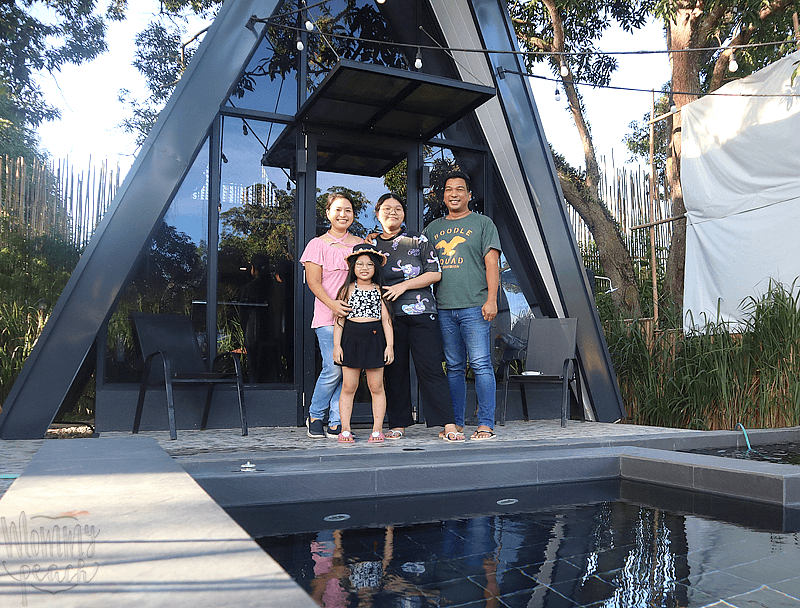 Our stay at My Cabin By Selah was last November pa pero ngayon ko lang na-share kasi.. Bakit nga ba?.. there are too many photos to go through… LOL! Anyway, we booked this because ang tagal ng hindi nakakalabas ng mga kids back then and I wanted to take them swimming. Because we're in the middle of the pandemic, I wanted to go to a resort that is private — meaning kaming family lang ang nandoon, pretty, and syempre that allows pets because we can't leave our pets behind.
That's when I found My Cabin By Selah — located in Bustos, Bulacan — ang lapit pa sa amin!
We booked the Medium Cabin for P10,700 per night. It can accommodate up to 8 persons. I booked this because the original plan was to bring my SIL, FIL, and my sister who calls herself Anney with us. Eh due to unforeseen circumstances, hindi sila nakasama that time so the cabin is really big for the four of us. Dun lang kami natulog sa first floor lahat since the two beds has pull out beds. The cabin also has a toilet and bathroom, a small kitchen which has a microwave, induction cooker, rice cooker, ref, and electric kettle. It also has dinnerware and some cookware.
Meron ding grill sa labas and you can pay P100 (yata) for the charcoal. Sila na bahalang magsindi ng charcoal — maggi-grill ka na lang. O diba, very convenient?
Yan ang baon namin — Boneless bangus, Steak, and BBQ Liempo. Yung Batchoy nadaanan lang namin on the way tapos bumili si DaddyDoodleDoo.
KAWA HOT BATH
You can choose to have Kawa Hot Bath at night. They suggested it kasi daw more relaxing — perfect bago matulog. I think the payment for this is P200 — they put aromatheraphy oil sa kawa when they prepare it for you. Very relaxing nga because of the hot water and the smell of the oil.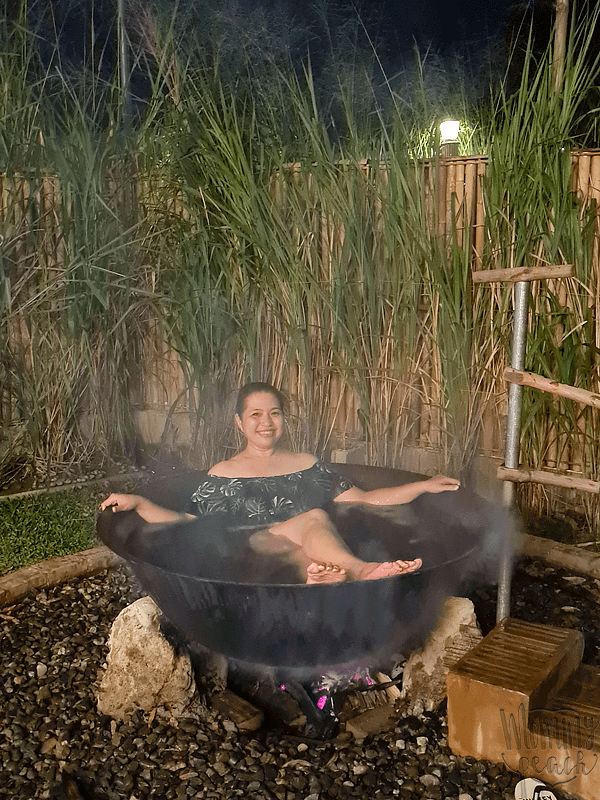 Kami lang ni DaddyDoodleDoo ang nag-ganito because the kids didn't like the hot water. Alam nyo na pag aging na… nasisiyahan sa hot water — LOL!
BONFIRE AND S'MORES
Of course may baon kaming pang s'mores so the bonfire at night is a must!
BIKING
We didn't know there are bikes that you can borrow and ride on their small trail. We only saw it when we got there kaya naman ni-try nila DaddyDoodleDoo, Twinkle, At Ykaie.
Another memory deposited to our memory bank! We really enjoyed our stay here. The ambience is very relaxing and the staff are approachable and accommodating.
WATCH OUR VIDEO HERE: