By now, you must be aware that social media isn't just a pastime for many—it's a commitment. This holds especially true if you're an online-based business or brand. After all, most of your operations, specifically the marketing bits, will occur on the web or social media platforms.
And as we all know, being online is demanding, particularly regarding social media, which requires a consistent, uninterrupted regimen when it comes to posting updates, content, marketing materials, and more.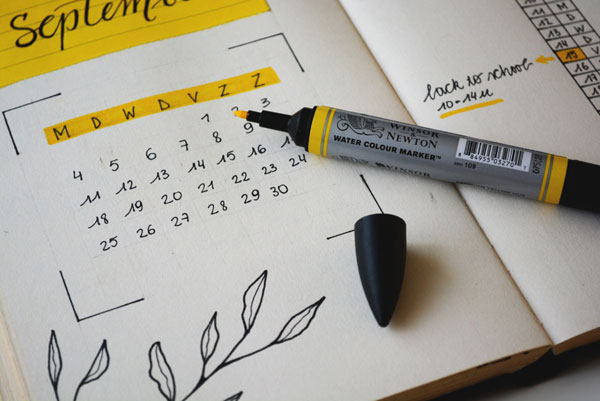 For those starting, this may seem unsurmountable or a task just too arduous to accomplish. While it's certainly true that it will be a difficult undertaking, it's not impossible to do. You have a Social Media Content Calendar to support you, after all.
What is a Social Media Content Calendar?
A social media content calendar, as its name suggests, is a document or written schedule of when you're going to post or publish content for a social networking site, specifically for your followers and potential consumers' consumption.
Usually, it contains upcoming blog posts, planned marketing activities, approaching social media campaigns, status updates, and content releases.
Why do you need one?
Putting in place a Content Calendar will not only help you organize all of your activities on social media, but it will also aid in facilitating your creation process and saving time.
You also don't have to stress about upcoming deadlines or cram for your next social media release.
But besides those mentioned above, there's a lot more you can gain from employing a content calendar. Here are a few, which are approved by top social media management agencies in the Philippines:
What benefits will you get from it?
It Keeps You Organized
Having things scheduled and planned will make things easier for you as you go forward. And that holds for anything you do in life—social media marketing included.
Utilizing a Content Calendar to prepare all your upcoming releases on social media will help you keep things tidy and well-organized, affording you fewer mistakes, too.
On top of that, using this method will allow you a better perspective on your overall promotional strategy, giving you an easier time identifying which ones are not working the way you want them to and which ones are effective.
Optimizes Your Creation Process
If you've been marketing on social media for quite some time now, then you know that "Content is King" when online. It's a must if you want to broaden your influence and reach digitally, specifically when on social networking sites. After all, it's the thing that attracts people to your brand page and what they naturally look for while scrolling through their feed.
However, churning out content is not as easy as it sounds. It also shouldn't be done haphazardly or at the moment. You have to dedicate time for research and thoroughly check your sources whenever you create new content for release. If not, you risk ruining what you've built online, especially your reputation.
Don't fret though, the process could be made simpler and more efficient through the employment of a Content Calendar. It will help you facilitate your creative process by allowing you to make content in advance—no more procrastinating! This calendar also helps you save time by keeping all of your post ideas and content in one document.
Makes You More Efficient
Since using a Content Calendar for your social media activities helps you organize your thoughts, campaigns, and creative process, your efficiency will be significantly improved.
This also means that you'll achieve maximum productivity with minimum wasted effort or expense.
Improves Tracking and Analysis
Another essential business operation—for brands who are on social media —that a content calendar makes more convenient is tracking and analysis.
Because you have all of the information you need in one document—be it posts or social media marketing campaigns—sifting through and studying data becomes easier, specifically when it comes to identifying results.
You'll be able to tell which posts or campaigns bring in the most engagement or interaction from your target audience and differentiate those that don't get as much response.
Learning the effectiveness of your content and promotional activities will make a big difference, especially when it comes to developing a better marketing strategy for your page. It'll also allow you to drop those that don't work as much, saving you from the extra expense.
Helps Strengthen Audience Engagement
As we all know, organization and proper scheduling, which a social media content calendar provides, leads to a more consistent online presence. And this is especially true when it comes to the content that you produce.
And by posting content on your social media page regularly, you not only improve your chances of being seen or noticed but also strengthen overall audience engagement. After all, followers, users, and your target audience respond to content the most, specifically those that are fresh and updated.
Take this as a sign and make one now!
If you haven't already been using a content calendar for your brand's social media activities, then you're missing out on a lot—obviously.
We're sure that after reading what we've presented above, you've been enlightened quite a bit to the wonders a content calendar would do for your social media operations. So, why waste time and wait? Employ one now and enjoy all the perks it has to offer!
You won't have to lose anything, but you do have a lot to gain!