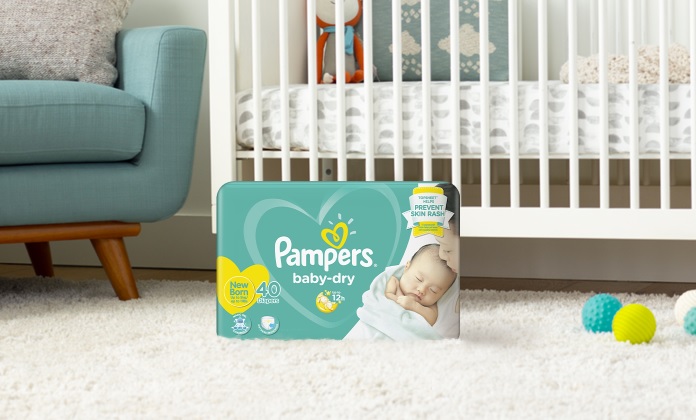 When it comes to diaper brands, Pampers is a household name. It has been a trusted brand for such a long time now that it was my first choice of diaper when Twinkle was born. (Read: Get A Chance To Win P1 Million For Your Baby with Pampers Baby Dry).
I was really happy with it because Twinkle had a good night's sleep each and every night. It kept her (and me, of course) from waking up because she was feeling wet or leaking.
Don't get me wrong, I've tried a couple of other brands too. I tried a cheaper brand before. I would always be tempted to move away from Pampers because of other brand's promise of the same level of protection for less than the price that I would pay for Pampers. But guess what? I would always go back to Pampers because they don't deliver. Twinkle would wake up in the middle of the night with wet clothes and wetting the bed in the process. It means double work for me in the morning. And rashes for Twinkle! Grabe! I can still remember how my heart broke seeing baby Twinkle crying because of the rashes.
Syempre, I would go back to Pampers Baby Dry. True to it's name, Pampers really kept her dry.
Pampers Baby Dry for Newborn has 2-in-1 Rash Shield that helps to protect baby's skin against babad (being soaked in wetness) by pulling away wetness and keeping baby's skin dry and kulob (stuffiness), thereby helping to prevent skin rashes.
Pampers Baby Dry for Newborn  was evaluated and has passed the standards of Smart Parenting moms nationwide, thus, it has the #SPSmartMomApprovedseal! AND it is also recommended by the Skin Health Alliance.
If you're a new parent or an expecting mom, you'll be happy to know that with Pampers, you and your baby are guaranteed a good night's sleep and a great day. Kasi with Pampers, siguradong 99.9% protected ang skin ni baby dahil sa 2-in-1 Rash Shield for Kontra-kulob and Kontra-babad.​
For other relatable parenting stories and helpful tips and tricks for newborn parenting check out Newborn Care 101 microsite (https://www.smartparenting.com.ph/newborn-care-101).