O siguro akala nyo tapos na ang kwento ko sa Summer escapades 2019 namin no? Hindi pa kaya. I just got sidetracked by……….. life. Ang busy kaya ng life nating mga mommies! I'm sure you'll agree!
So, like what I've told you earlier, We usually have three Summer lakwatsa… (ang gastos namin no?). Let's have a recap ha… just in case you want to back read…
READ:
And this was the last: Tierra Salva Lakeview Resort in Batangas. As you can see, we also wore matchy-matchy ootd's. Feel namin maging halaman this time so leafy greens ang theme. (Parang salad lang, ganern!)
Our Rooms, The Resort
The resort is like  big rest house which they rented and turned into a resort. Its main house has two air-conditioned rooms on the second floor which has a double bed with a pull out bed and and an extra queen mattress. It has an adjoining bathroom.
This is where we stayed. (FIL, MIL, peanutbutter♥, me, Ykaie, and Twinkle)
This room is where Sis, Chellie, Shy, and Gab stayed.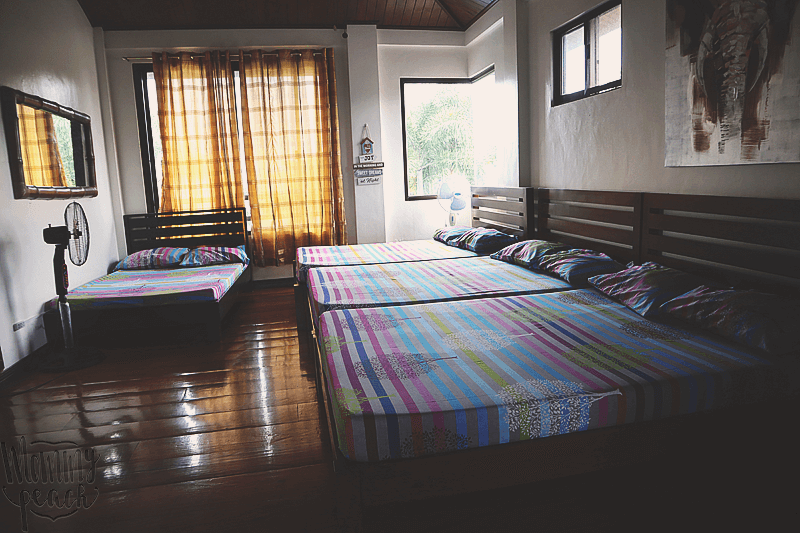 It also has a family hall that has four double beds which has its own bathroom. The family hall is not air-conditioned, though. Syempre, no one stayed here kasi mainit!
Other accommodation outside which can also be used are the Antigo Cottage which is also air-conditioned with toilet and bath and has 4 double beds and the Bahay Kubo which has 1 twin beds.
As you can see, this is a big resort and can easily house around 30 persons. You can say this is also good for team buildings, family reunions, and other occasions which requires a large sleeping space.
In case you were wondering, we got the resort for ₱14,500 per night which means ₱29,000 sya for two nights. I think it's okay for 30 persons, considering the space and amenities.
This is the living area where their tv is located. At the back is a dining space and the clean kitchen where the microwave oven is located.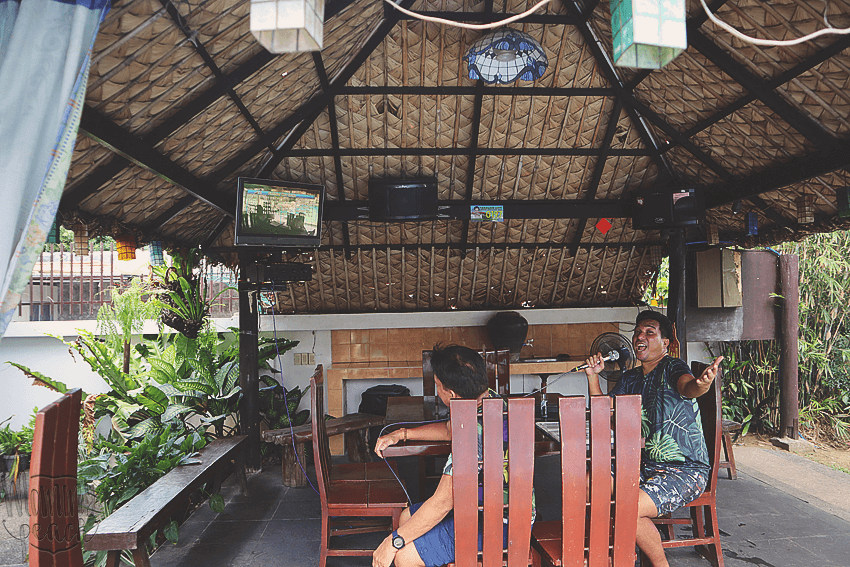 Videoke all night is also possible here in the resort… O ayan na nga si peanutbutter♥ at si Papa Sony nag-start na ng concert nila.
Oh and there's this: a tree house where you can make tambay while having coffee during chismis time, hihihi
SWIMMING TIME!
The resort has only one swimming pool but of course one is enough for all of us. It was cloudy and drizzling from time to time when we were there but it just made it more fun.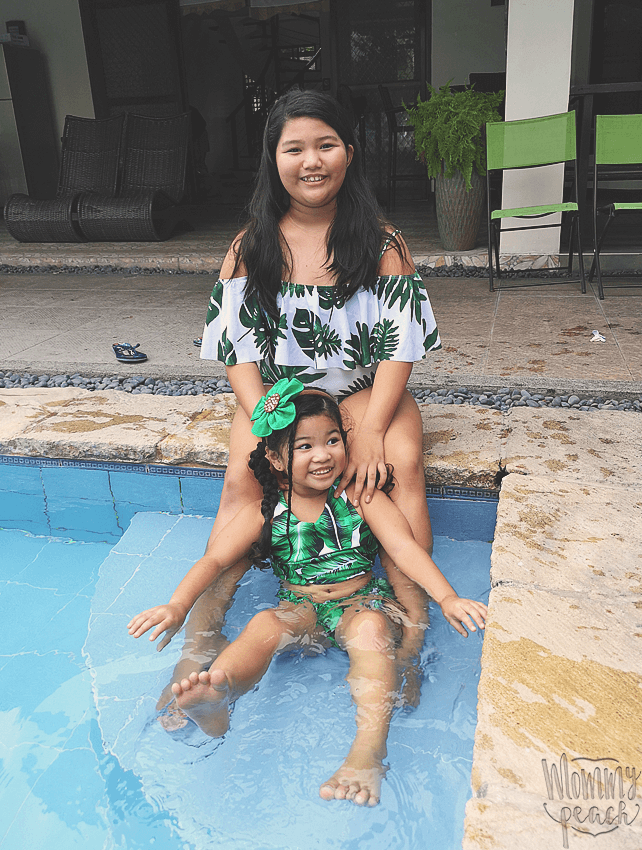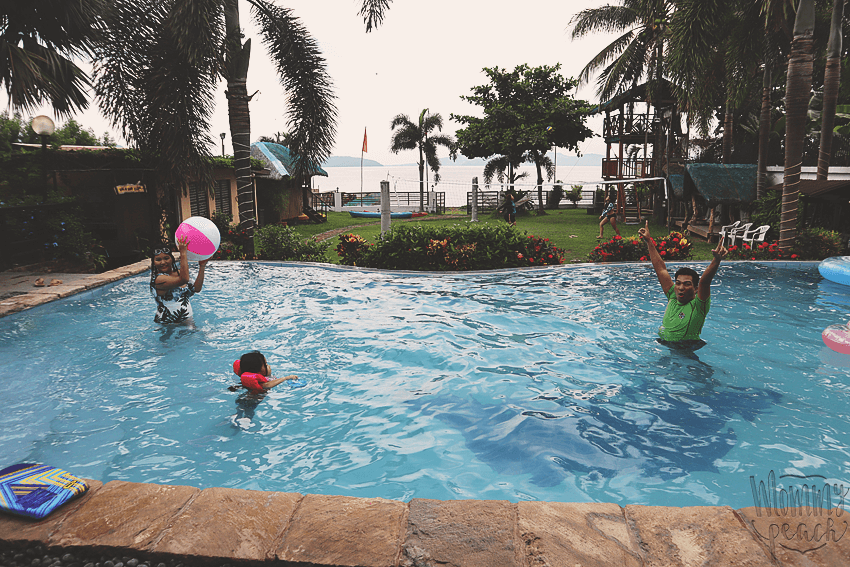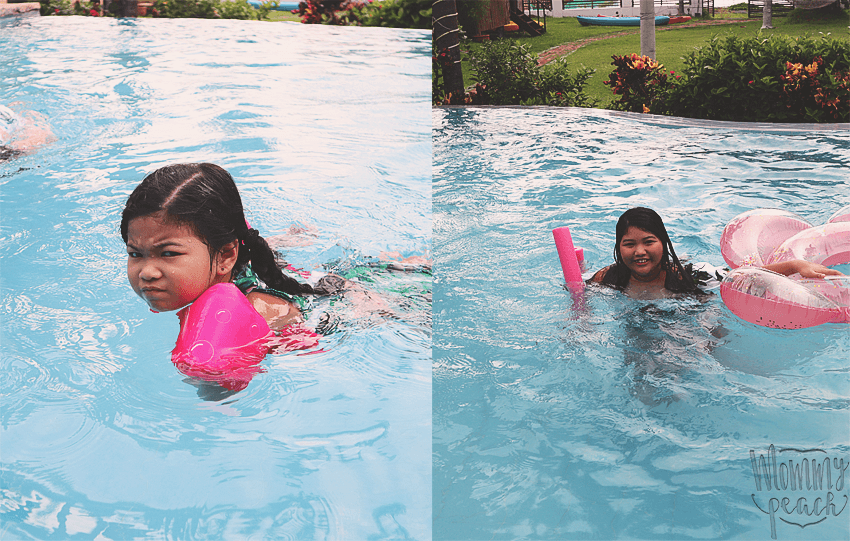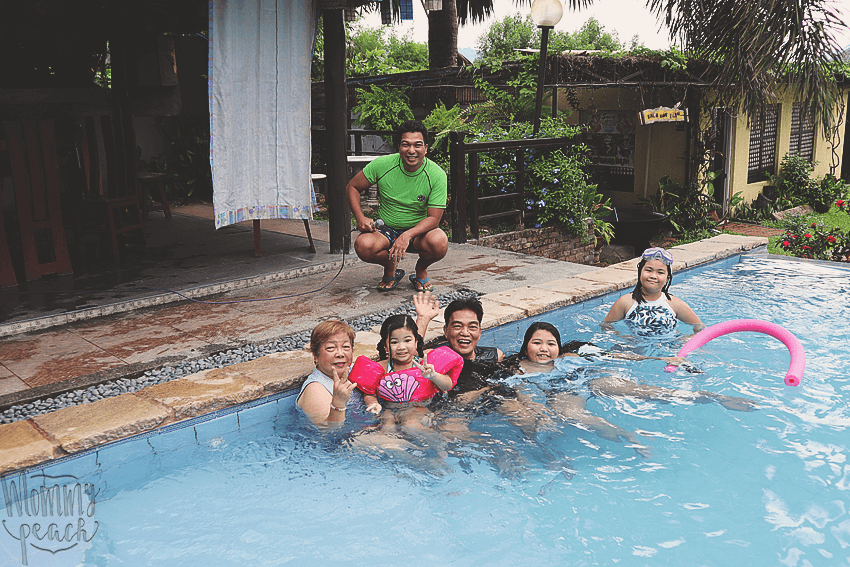 We did nothing but swim- eat-swim-eat again-swim again.
Oh, and we celebrated Twinkle's Moana Themed Birthday party here which I will share with you on my next post.
KAWA HOT BATH
There are lots of things you can do here like Jet ski, Kayak, play basketball (there's a basketball court at the entrance),  play volleyball, and utilize this Kawa Hot Bath…
This is where you'll get to be ulam for a day… LOL! Ikaw muna ang iluluto, pahinga muna ang food. Just kidding.
This is where you'll get to take a bath on a big pot or kawa just like  you're in a bath tub…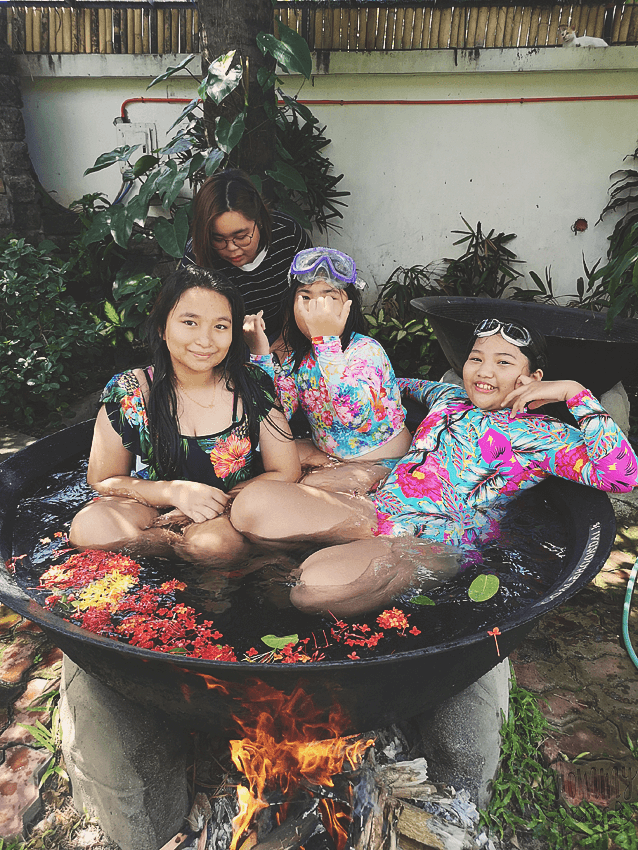 And this is how it looks like at night. Ang ganda no?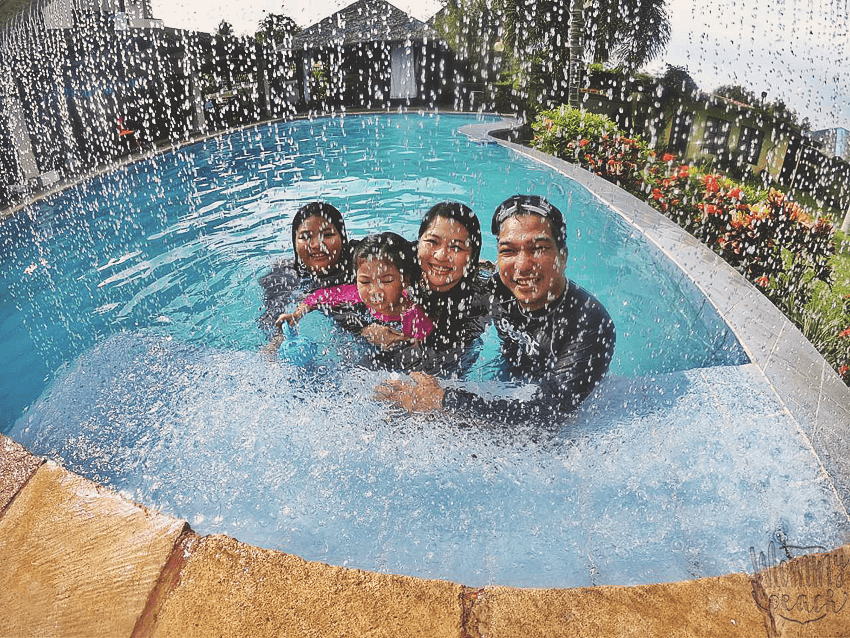 Over all, it was a fun stay. We really had a great time. Nakakapagod lang talaga mag pack and unpack at mag-byahe pauwi!
Let me share with you What I Like About Tierra Salva Lakeview Resort:
The resort is very spacious
The caretaker is always there so you can ask him if you need anything like where's the nearest sari-sari store to buy tube ice, suka etc.
There's wifi, cable tv, and videoke
The a/c is super okay. Malakas ang air con, ang sarap matulog kapag galing ng swimming!
Lots of activities you can do inside the resort.
What I Didn't Like:
Malangaw sa resort. Hindi ko alam kung saan pwede manggaling ang langaw pero grabe!!!
Incomplete kitchen equipment — walang rice cooker, strainer, etc.
The showers are located at the 2nd floor. Meaning after swimming, you have to go up to take a shower.You'll be leaving a trail of water along the way. At medyo mahina ang tulo ng tubig.
You don't really have privacy 'cause the caretaker can go in and out of the main house.
Tierra Salva Lakeview Resort is located at Purok 5, Barangay Gonzales, Tanauan City, Batangas
Check out our video here: